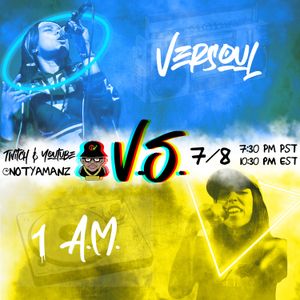 1 A.M. and Versoul participated in their first VERSUS hosted by NotYaManz! It was a tough challenge for the judges and both artists brought the heat!
Watch the full stream here!
"Battle of The Bay! This Versuz will host two multi-talented femcees put their catalogs against each other. Hailing from The South Bay representing Gilroy, CA is Independent rapper, singer, producer, engineer, video director, graphic designer and podcast host for the Breakaway Artist Society 1 A.M.! With 18 albums to her name and 19th on the way, she is one of the most consistent and forever evolving artists the 408 has to offer. With versatility across various styles and subject matter, she is not afraid to try out new things and is always spreading a positive message for all her listeners. But aside from her positive message, 1 A.M. is also a deadly MC that can go toe to toe with any heavy spitter or wordsmith. Definitely not an artist to take lightly in a versuz. Her Challenger, Hailing from the North Bay representing San Francisco, CA is Independent alternative Hip-Hop artist, singer, MC, audio engineer, guitar player and producer Versoul formerly known as Babii Cris! This artist is one of Frisco's most talented femcees who constantly sharpens her craft. From taking on live instruments, challenging herself to create a new song everyday, and on top of hosting various artist showcase show across The Bay Area, she definitely is no slouch when it comes to her work and gives back by showcasing other talent from around her way. Her music has a very, and dare I say, Soulful vibe to it, but don't get it twisted, she's also a contender when it comes to her bars and she's not afraid to show how much of a worthy adversary she can be on the mic. So join us on July 8th to see these two highly decorated artists go head to head to see who's catalog comes out on top! hosted by John D. Contradiction and will be judged by a panel of 4 random judges. Participating judges will be announced the day of event. We will be Live on Twitch, Facebook & Youtube at the same time. Join us in the chat! Yay Area Stand The Fuck Up!"
Check Versoul Out: https://versoulmusic.com/
Check 1 A.M. Out: https://iam1am.com/1-a-m-links
NotYaManz Discord! https://linktr.ee/NotYamanz